Kent and Linda Ragsdale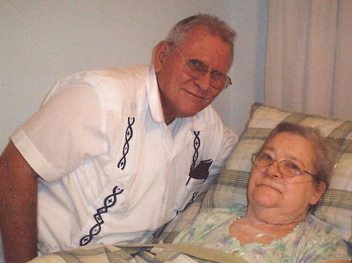 Kent and Linda Ragsdale met at Moody Bible Institute in Chicago. They married and soon followed God's call to the Haitian mission field in 1959, where they worked with OMS International at Radio 4-VEH on the north coast of Haiti - Kent as a radio engineer and Linda as a secretary for the station.

In 1972 and four children later, they moved to Port-au-Prince where Kent started an audio-visual ministry using Christian films in French and Creole to open doors for spreading the gospel at numerous churches around Haiti. Soon Kent and Linda began working with C.E.E.H. (Concile des Eglises Evangeliques d'Haiti/Evangelical Council of Haitian Churches) under the support of New Life Advance International. In this capacity, Kent was able to serve many churches and missions throughout Haiti as he worked to provide sound, films, preaching, teaching, and more for special crusades and services.

In addition, Kent and Linda volunteered for Missionary Flights International. They helped with delivery and receipt of the mail and cargo that came and went with each flight by using their home as a mail depot for missionaries and organizations around Haiti.

Kent and Linda also served for many years as support for other missionaries and organizations in various capacities, including maintaining a list of blood types in case of emergency, maintaining HAM radio communications with missionaries in areas where phones were not easily accessible, serving as wardens for the US Embassy, repairing equipment, and much more.

In May 2006, Linda suffered a massive stroke and is now completely immobile. Kent then underwent radiation treatment for prostate cancer in the fall of 2006. While the cancer is now in remission, it left Kent very weak for quite some time. These two physical conditions forced the couple to retire suddenly and without preparation.

Linda is now bed-ridden at home with 24 hour care. Kent is active in ministry again, assisting with a new Haitian church plant and with a Sunday afternoon service at a nearby assisted living facility.

After 48 years on the field in Haiti, Kent and Linda now live in Florida near their youngest daughter. They have four grown children: Karl, Kris, Kathy, and Karen; six grandchildren; and three great-grandchildren.