Bob and Carol Meisky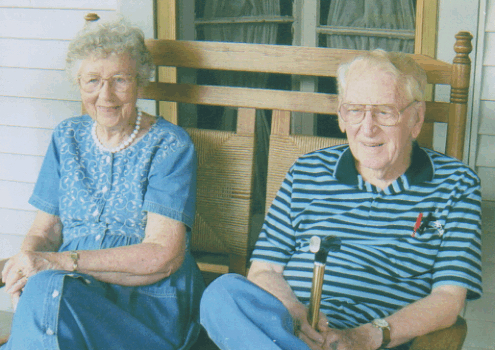 When Bob and Carol married, the Lord burdened his heart to become a minister. A chemical engineer in the army at the time, Bob went to seminary once his enlistment was up.
In 1949, Bob and Carol first served in central Pennsylvania as part of a circuit of three churches. God had burdened Bob's heart for the many churches without permanent pastors. God knew they had much to learn about serving him, spiritually and how to live without "things".
After five years in central Pennsylvania, Bob and Carol received a call in 1953 to a church in Alexandria, VA, where they served for almost thirty years. Bob preached and led bible studies, while Carol taught Sunday School and worked with the youth groups. Besides being a pastor, Bob's love of sports led him to work closely with a number of local high school coaches.
After 30 years, Bob and Carol retired in 1983 and they lived in an apartment in Alexandria. Bob continued teaching evening adult classes at Washington Bible College and pastored at a retirement home. They were asked to move to Luxembourg and pastored an English-speaking church for 9 months while the pastor continued his biblical studies in the US.
In 1988 Bob and Carol moved to a retirement apartment on the grounds of Tri- State Bible Camp in New Jersey where Bob was the director for several weeks of family camp. At their new church, Bob taught Sunday School and they led a program for the seniors at the church.
Bob passed away in 2006 and several years later Carol moved back to Virginia to live with her daughter Barbara, one of their five children.