Jack and Marie Matlack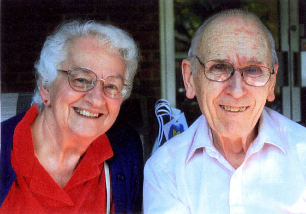 Jack and Marie Matlack served with Biblical Ministries Worldwide (BMW), bringing the good news of the gospel to Germany for 34 years. During their time in Germany, they worked in a church planting ministry.
After living overseas, they moved to mission headquarters (then in Langhorne, Pennsylvania) to serve as hosts in the guest house for 5 years. BMW then moved to Lawrenceville, Georgia. Marie and Jack worked in the office in various support areas, wherever help was needed. After 10 years in Georgia, Jack and Marie retired in February of 2000.
Jack and Marie are thankful that God has brought them to Calvary Fellowship Homes (CFH), a Christian retirement community, where they have resided since March 2000. On February 24th of 2010, Jack, after a period of illness, went home to be with the Lord.
The Matlacks have four children: Linda, Jack, Anita, and Ken; 12 grandchildren; and 5 great-grandchildren. All of Jack and Marie's children are involved in ministry, three of whom continue to carry on missionary work in Germany and Austria.