Steve and Aggie Maleski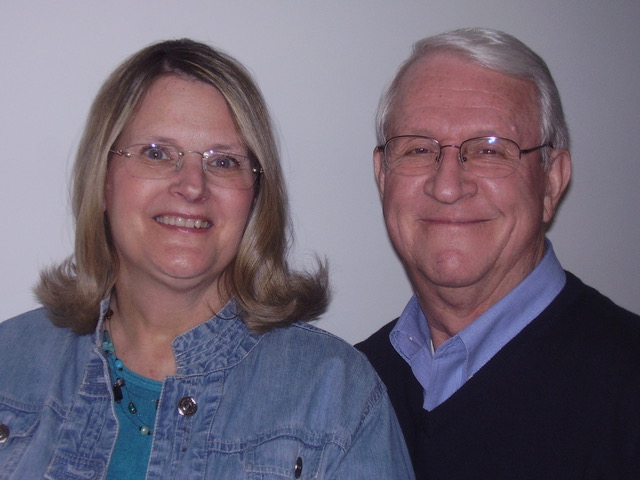 Steve and Aggie began serving with The Navigators in 1981. With a passion to impact the lives of people for eternity, Steve and Aggie have discipled, trained, mentored, and counseled numerous couples and individuals who have desired to know Christ more intimately, and to serve Him with more focused intentionality. These efforts provided the spiritual foundation for many folks who have become spiritual leaders, pastors, and missionaries. In 2003, they began to focus these same efforts toward future international leaders of the world as they came to study here in the USA. Several years ago, Steve and Aggie also began serving as members of The Navigatorsí People Resources Team to provide counseling and shepherding/soul care to other Navigator staff in the Southeastern United States. In retirement, they not only will continue to provide the shepherding to Navigator staff, but also hope to provide soul care to missionaries in other organizations.
Aggie spent the first 18 years of her life in a small city named Elyria, near Cleveland, Ohio. She grew up in a loving Polish Catholic family as the youngest of nine children, with five brothers and three sisters. For reasons unknown to anyone to this day, Aggie was attacked and stabbed twice in the chest when she was only 12. To further complicate matters, both of her parents died within 18 months of her stabbing. She soon began to live with two of her brothers who still lived in Elyria. But being a fifth wheel in two different families made her teen years extremely difficult. Her faith in God, as she knew it, began to grow. By the time she was 17, she realized that her life passion would involve serving others. After graduation, she headed to Bowling Green State University, where she would begin her studies to become a teacher.
Steve grew up in southeast Ohio near the small town of St. Clairsville. Although he did not think of himself this way, Steve was a country boy where the cows might have outnumbered the people around his home. Steve loved to be outside with friends or by himself. Whether riding his bike, exploring, playing sports, or going fishing down at the creek, he was free to experience all the excitement and adventures that lay before him. Yet with all this freedom, he felt controlled and trapped in the midst of his home life. In high school, Steve joined three sports teams, the band, and anything else of interest that would keep him away from home for as long as possible. As a teenager, a life of faith was always in the back of his mind. His maternal grandparents had loved him deeply and graciously shared the good news of Jesusí love for him. But the control and lack of love he found at home made it difficult to conceive of Godís love for him. As high school ended, he too had a passion for helping people and was headed to Bowling Green State University to become a teacher.
As their paths crossed at BG, Steve and Aggie began dating and soon sensed that God was drawing them together. It was during that time they both recognized the great sacrifice that Jesus Christ had paid for them to know the Father personally, and both opened their hearts to allow the Holy Spirit to dwell in the midst. They eventually met The Navigators and began to grow spiritually, as they learned how to feed themselves with the Word. This was the beginning of a journey that would last for the next 48 years and counting.
Steve and Aggie were married on December 20, 1969. For almost three years as Steve worked as a teacher and coach, the couple continued to grow and learn how to minister to others on the college campus. But their living situation began to change. It became apparent that God was leading them into the military. On November 2, 1971, Steve joined the Marine Corps as an officer candidate. After 10 months of training, they were stationed at Camp Lejeune in Jacksonville, NC. Besides Steveís military duties, the couple were trained to evangelize and disciple young Marines and civilians as well. Toward the end of our time in Jacksonville, they had the opportunity to work with young officers and their spouses. Unbeknownst to them, this experience would light a passionate fire for ministering to couples that has carried to this day.
After their time in Jacksonville, they were asked to join The Navigators and others in developing a couples/community ministry in Greensboro. They agreed to do so, since this would afford Steve with the opportunity to attend grad school. Steve eventually completed a masterís degree in counseling and a doctorate in student development. The latter would provide Steve the opportunity to work in student affairs on a university campus, which he did for five years at UNC Greensboro.
It was during Steveís doctoral work that The Navigators began to recruit the couple to become Nav staff. Their initial response was to decline and continue to minister with students as they could on a university campus. However, Godís plans were different. He used 2 Corinthians 4:7 to guide and change their thinking. Steve and Aggie soon became staff in Greensboro, where they remained for the entirety of their ministry. This was due, in part, to the fruit God was producing there, and because of Steveís need for a warm/moist climate to help protect his voice and vocal chords. Through the years, they have worked with individuals, couples, churches, the Promise Keepers, and International Students on two mid-major university campuses in Greensboro.
Steve and Aggie have two grown sons, Steven and Brian. Steve is single and has been a small business owner in Charlotte, NC. Brian is married to Kate, and they have three of the grandest children ever, Owen, Vivi, and Finn. They live and work in Greensboro, which affords plenty of time for Grammy and PopPop to spend time with them. Steve and Aggie consider this, along with a number of local ministry opportunities, a very good reason to spend their retirement in Greensboro.