Linda Ragsdale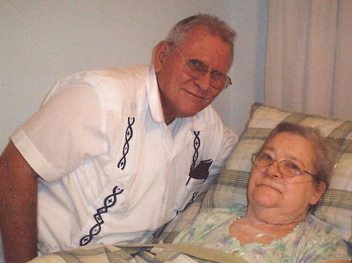 Born June 27, 1936 to Rex Lawrence Davenport and Christine Brown Davenport, Linda Lou grew up on their farm in rural Fenton, Michigan. Linda had an identical twin sister, Patty Lee Davenport, who did not survive birth. She also had an older sister, Thelma, and brother, Kenneth (Kenny), and a younger brother, Lawrence (Larry) Davenport.
Linda is survived by her husband of 61 years (this July), Kent Ragsdale; her two sons, Karl Ragsdale (Pam) and Kris Ragsdale, and two daughters, Kathy DePue (Jon) and Karen Stanaland (Jay); and her brother Lawrence Davenport (Charlotte); and several nieces and nephews. Linda has 6 grandchildren: Jonathan DePue, Nicole DePue, Connie Diminico, Sam Ragsdale, Sarah Stanaland, and Jennifer Stanaland. There are also four great-grandchildren: Jasmine, Brandon, Kaitlyn and Logan.
Linda accepted Christ as her Savior at a young age. She later attended Moody Bible Institute in Chicago, where she made a decision to dedicate her life to doing God's work and studied Christian Education and Music.
Soon after arriving at Moody, Linda met Kent, a handsome young man who was studying to become a radio engineer with the intention of going onto the mission field. They were married July 21, 1956. Kent and Linda then went to Haiti in 1959 to serve as missionaries on the OMS compound near Cap Haitien. They spent 47 years there in service to our Lord and the Haitian people.
Linda loved communicating with family, friends, and supporters; and wrote (old fashioned snail-mail) letters to them every day. In turn, she loved receiving letters from home and would devour them as soon as they were received, which in Haiti could be months or even years after they were written.
Many years were spent as a secretary for Radio 4VEH, responding to letters from many of the station listeners from around the world. People back home didn't always know who or what she was talking about, but she made sure they were informed of life in Haiti anyway. Kent often teased that she was his secretary, and she often wrote letters for him, correcting his spelling and grammar, which are atrocious.
Together, Kent and Linda spent many years helping other missionaries with their correspondence back home as they helped Missionary Flights International with bringing and taking mail to and from Haiti for dozens of mission organizations. The "mail depot" was kept at their home in Port-au-Prince, and Linda oversaw tasks like sorting mail, insuring proper postage was used, and so much more. Missionaries from all over Haiti came and went every day to pick up their mail and leave their outgoing mail.
Music played a big part in Linda's everyday life. She played the piano, organ, accordion, and clarinet. She taught her children to enjoy music as well. She often accompanied Kent in church. Linda believed in the healing power of music and she later studied music as therapy via correspondence courses. Linda was a soprano and sang in the International Community Choir for many years before medical retirement from the mission field.
Education was also important to Linda – probably because her mother had been a teacher. She stressed this not only to her own children, but also to the young people who worked in their house. One young Haitian man shared how, as a teenager, he resented all the time she made him spend reading and studying in-between work. But as an adult he now understands the value of it and is so grateful to her, acknowledging that his success was primarily due to her love and diligence. Kent and Linda often paid for young Haitian men to attend school – something that is not free in Haiti.
Kent and Linda also represented several American citizens in Haiti for many years as Wardens of the US Embassy. Their responsibilities included communicating to other Americans any security warnings that came from the Embassy, helping communicate in urgent times, and communicating needs such as a death back home or an American citizen in Haiti needing blood. Linda was like a bloodhound when it came to tracking down Americans with the right blood type and getting them to donate. They helped to coordinate several medivacs for life- threatening situations and together they helped save many lives.
"The Ragsdales were amongst our closest friends while here in Haiti and loved the Haitian people with all their heart. Linda had a ministry of prayer as very few others I have ever known. Both of them also stood with us from the beginning in the International Community Chorus of Haiti when we presented Handel's Messiah each year. Earth's loss is Heaven's gain."
- Allan Chabot-Stahls (Missionary friend in Haiti)